Uranium Overview
Uranium: Global Energy Source
Global demand for electricity is set to grow 76% by 2030 and nuclear energy will play an integral role in meeting this demand. The WNA reports that there are 442 nuclear reactors operable in over 30 countries. These reactors can generate approx. 400 gigawatts of electricity and supply approx. 11% of the world's electrical requirements. There are 54 nuclear reactors under construction in 14 countries with the principal drivers of this expansion being China (12 reactors under construction), the Middle East, Russia and India. Furthermore, the WNA reports there are a total of 439 reactors that are either order, planned or proposed.

According to UxC, global nuclear power capacities are projected to increase from 379.4 gigawatts in 2015 to over 483 gigawatts by 2030. Uncovered demand rises rapidly over the coming years increasing to 20% of demand over 2021, 50% of demand in 2025, and UxC also estimates that annual uranium demand could grow nearly 65% to more than 300 million pounds U3O8 by 2030 from just under 200 million pounds U3O8. Primary mine supply for 2018 was approx. 138 million pounds U3O8.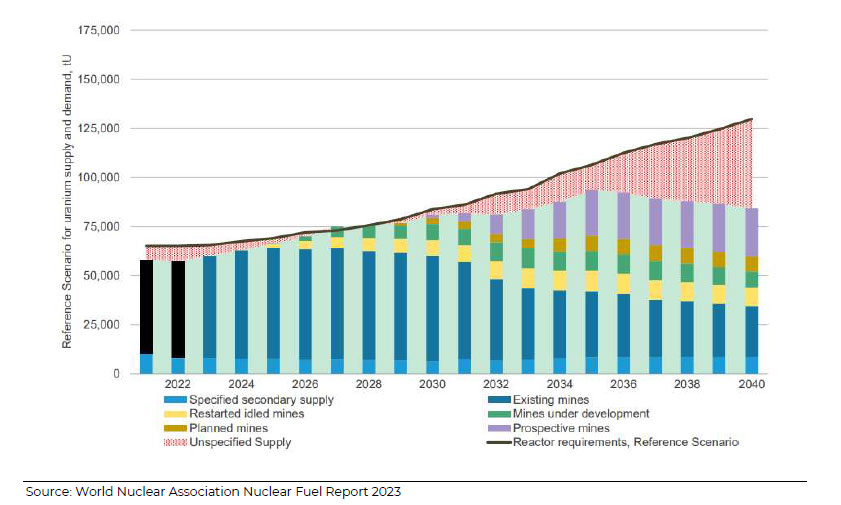 World Electricity Consumption
(Click to Enlarge)
Uranium Market Commentary and Update:
The uranium market is showing signs of recovery and analysts that cover the sector have stated that there could be a sustained upswing as they are currently seeing some of the best fundamentals since pre-Fukushima. This should be supportive of higher uranium prices as a major supply-side response is playing out while the sticky demand-side continues to improve. Primary uranium production declined to approx. 138 million lbs U3O8 in 2018 with recent closures and project deferrals while demand continues to rise and is expected to be approx. 196 million lbs as per UxC in 2019. The spot uranium price is just under $25 / lb U3O8 which is still well below the average all-in global cost of production and significant price appreciation is needed to justify this production as well as developing new mines to ensure sustainable and secure supply to meet growing global demand.
More recently, headlines have been dominated by the upcoming "Section 232 Petition" decision by the White House following a U.S. Department of Commerce investigation and the submission of a report on the effects of uranium imports into the U.S. The review period will be over in the middle of July with a ruling to follow which will remove the recent uncertainty surrounding the Section 232 Petition and is expected to help get U.S. nuclear utilities back to buying uranium in the market and contracting. Furthermore, major production cuts and depleting mine reserves appear to be working their way into the uranium market and driving prices higher. The two largest producers, Cameco and KazAtomProm, have announced large supply cuts in 2017 and 2018 including Cameco's suspension of operations at the world's largest uranium mine, McArthur River. Additionally, several new uranium holding companies and funds have emerged to purchase physical material effectively taking further spot supply from circulation. Lastly, Cameco has commenced and will continue to buy millions of pounds of uranium directly in the spot market to fulfill their contracts.
On the demand side, there are 442 operating nuclear reactors and 54 new reactors under construction globally with hundreds more that have been ordered, planned and proposed. China continues to be at the forefront of demand growth and has the largest reactor pipeline including 47 operating reactors, 12 under construction and another 212 planned, ordered or proposed, making up a significant portion of the global pipeline of non-operating units. Additionally, India recently announced that the country has approved the construction of 12 new nuclear reactors to generate base-load, clean, reliable electricity.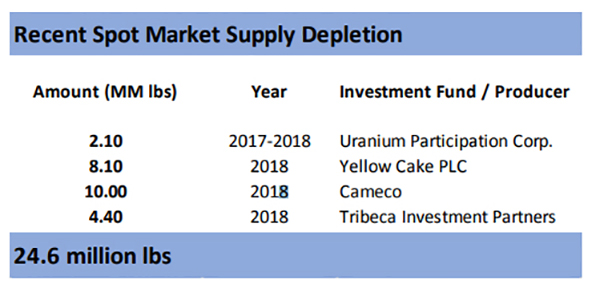 Source: Company Reports


Source: Company Reports
Uranium: Prices
Nuclear utilities purchase uranium primarily through long-term contracts. These contracts usually provide for deliveries to begin two to four years after they are signed and provide for delivery from four to ten years thereafter. In awarding medium and long-term contracts, electric utilities consider the producer's uranium reserves, record of performance and production cost profile, in addition to the commercial terms offered. Prices are established by a number of methods, including base prices adjusted by inflation indices, reference prices (generally spot price indicators, but also long-term reference prices) and annual price negotiations. Contracts may also contain annual volume flexibility, floor prices, ceiling prices and other negotiated provisions. Under these contracts, the actual price mechanisms are usually confidential.
The long-term demand that actually enters the market is affected in a large part by utilities' uncovered requirements. Uncovered demand, is projected by UxC to increase significantly over the period of 2018 to 2030. In order to address the rising portion of demand that is uncovered, utilities will have to return to the market and enter into long-term contracts. From 2006 to 2010, on average, 39 million pounds U3O8 equivalent were purchased on the spot market per year and roughly 200 million pounds U3O8 equivalent were contracted in the long term market each year. In 2016, by comparison, 46 million pounds U3O8 equivalent were purchased on the spot market, and approximately 66 million pounds U3O8 equivalent were contracted in the long term market. With low contract volumes in recent years and increasing uncovered requirements, we expect that long term contracting activity will have to increase in the near future as utilities look to secure supply and move U3O8 through the nuclear fuel cycle in order to fuel the world's growing fleet of nuclear reactors.

Uranium: Value of Grades
Metal
Grade
lbs/t
$/unit
Value/t
U3O8
1%
22
$45 / lb
$990
Gold
22.6 g/t
-
$1360 /oz
$990
Silver
1386 g/t
-
$22.23 / oz
$991
Copper
13.6%
300
$3.30 / lb
$989
Nickel
6.71%
148
$6.69 / lb
$990
1% U3O8 (Uranium) =
22.6 g/t Gold
1386 g/t Silver
13.6% Copper
6.71% Nickel
Uranium: Exploration in the Athabasca Basin, Northern Saskatchewan
The uranium (U3O8) deposits of Saskatchewan, Canada are the richest in the world. The Athabasca Basin is an ancient sedimentary basin which hosts the world's most significant uranium mines and produces almost 20% of the current world uranium production in a safe and favourable jurisdiction. Athabasca uranium deposits also have grades substantially higher than the world average grade of under 0.2% U3O8.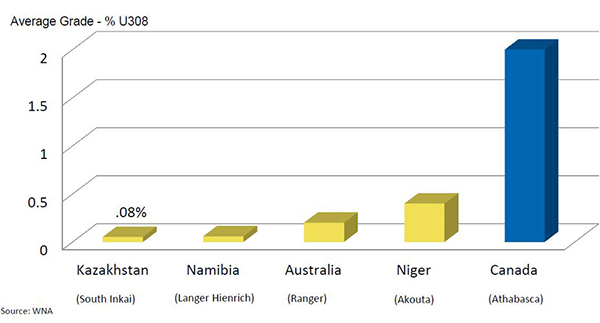 Average Grade per Region
Click to Enlarge
2012-2019 Southwest Athabasca Basin Uranium Discoveries
The Arrow discovery made by NexGen Energy (TSX-V: NXE); now the high grade Arrow deposit
Patterson Lake South discovery made by Fission Uranium (TSX: FCU); now the high grade Triple R deposit
Cameco / Orano (formerly AREVA) / Purepoint Uranium's Hook Lake Spitfire Zone high grade discovery
Three separate major discoveries in a short period of time in this emerging uranium district illustrate high grade nature of mineralization and potential for additional discoveries
2005-2019 Eastern Flank Athabasca Basin Uranium Discoveries
Wheeler River's Phoenix and Gryphon Deposits being explored and developed by Denison Mines (TSX: DML); Phoenix deposit contains indicated resources of 70.2M lbs U3O8 at a grade of 19.1% U3O8 and the Gryphon deposit 3 kilometres northwest of Phoenix contains inferred resources of 43M lbs U3O8 at a grade of 2.3% U3O8
Hathor Exploration which was acquired by Rio Tinto in 2011 explored Roughrider deposit which contains indicated resource of 17.2M lbs U3O8 at a grade of 1.98% U3O8 and inferred resource of 40.7M lbs U3O8 at a grade of 11.2% U3O8
J-Zone discovery by Fission Uranium and KEPCO; indicated 306,831 tonnes at 1.52% U3O8 (10.2 million lbs) and inferred 138,404 tonnes at 0.90% U3O8 (2.7 million lbs)
The majority of the large, high grade uranium deposits and mines are found on the east side of the Basin with the potential for additional discoveries to be made