Highway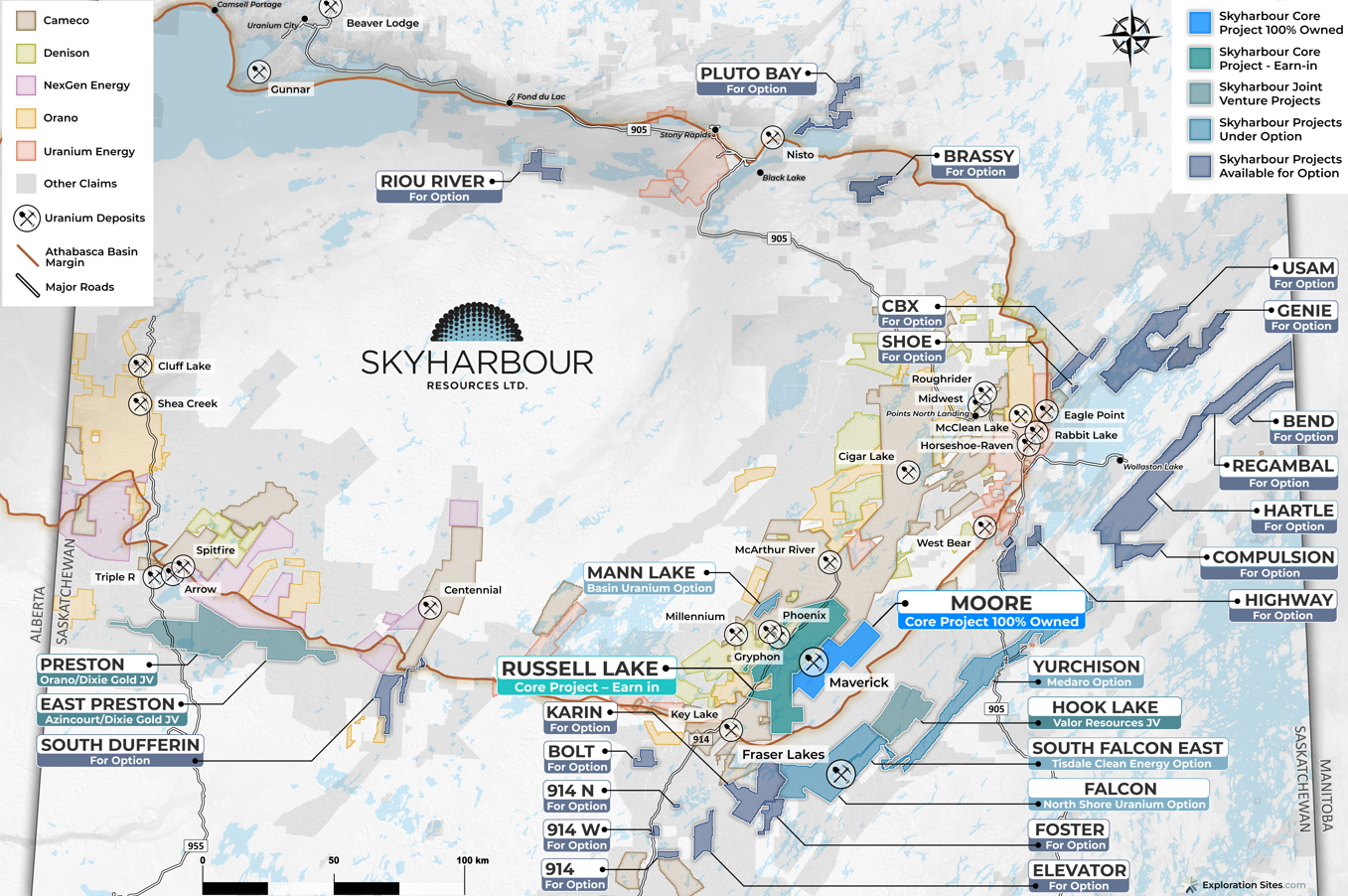 The Highway Project consists of one claim covering ~1184 ha, approximately 41 km south of the Rabbit Lake Mine and 11 km SW of Uranium Energy Corp.'s (UEC, formerly UEX) West Bear U and Co-Ni Deposits. Highway 905 runs through the property, providing excellent access for exploration and the project is in close proximity to regional infrastructure. Despite its proximity to infrastructure and excellent access, the project is relatively underexplored. The project is underlain by Wollaston Supergroup metasedimentary gneisses (pelitic to psammopelitic and psammitic to meta-arkosic) folded around and overlying an Archean felsic gneiss dome which outcrops in the southwestern portion of the property and cores a northeast trending antiformal fold nose. The Highway Project is located approximately 7 km east of the present-day margin of the Athabasca Basin but is believed to have been covered by Athabasca sandstone in the past.
The earliest work on the property was completed between 1968-1978 and included airborne EM, magnetic, and radiometric surveys, along with bedrock mapping, prospecting, radon sampling, and ground EM surveying on portions of the property. One single augured drill hole by the SRC and the Saskatchewan Geological Survey was drilled in 1976 as part of a regional sampling survey. The project has also been covered by portions of airborne EM and magnetics surveys in 2009, 2011, and 2017. The 2017 survey failed to identify any EM conductors on the property and only poorly defined historic EM conductors southwest of the property along strike at "T-Lake", where surface sampling and historic diamond drilling encountered anomalous U, Th, and REEs graphitic faulting, and variably altered fracture zones. The EM conductors at T-Lake are coincident with a northeast-trending magnetic low following the Archean-Wollaston Supergroup contact, which continues onto the Highway property and is folded around the Archean gneiss dome, before continuing off property to the southwest along the northern limb of this fold. The northern fold limb off property is also associated with EM conductors north of Robertson Lake and by Dorward Bay and with off-conductor uranium and thorium mineralization (≤44,297 ppm UO2 and ≤195,200 ppm ThO2) at the "Manhattan Showing" (SMDI 2052). Ground prospecting on the Highway Property in 2011 encountered a pegmatite-pelitic gneiss boulder (SMDI 5531) containing 3475 ppm TREE+Y+Sc, suggesting the Highway Project is prospective for rare earth elements (REE's) in addition to basement-hosted unconformity-related and/or intrusive-type uranium mineralization.
Highway Project Map:
https://www.skyharbourltd.com/_resources/images/Sky-Highway.jpg *Please contact Aramcharan@sentinelmarket.com for additional information regarding the project available for option.