West Dufferin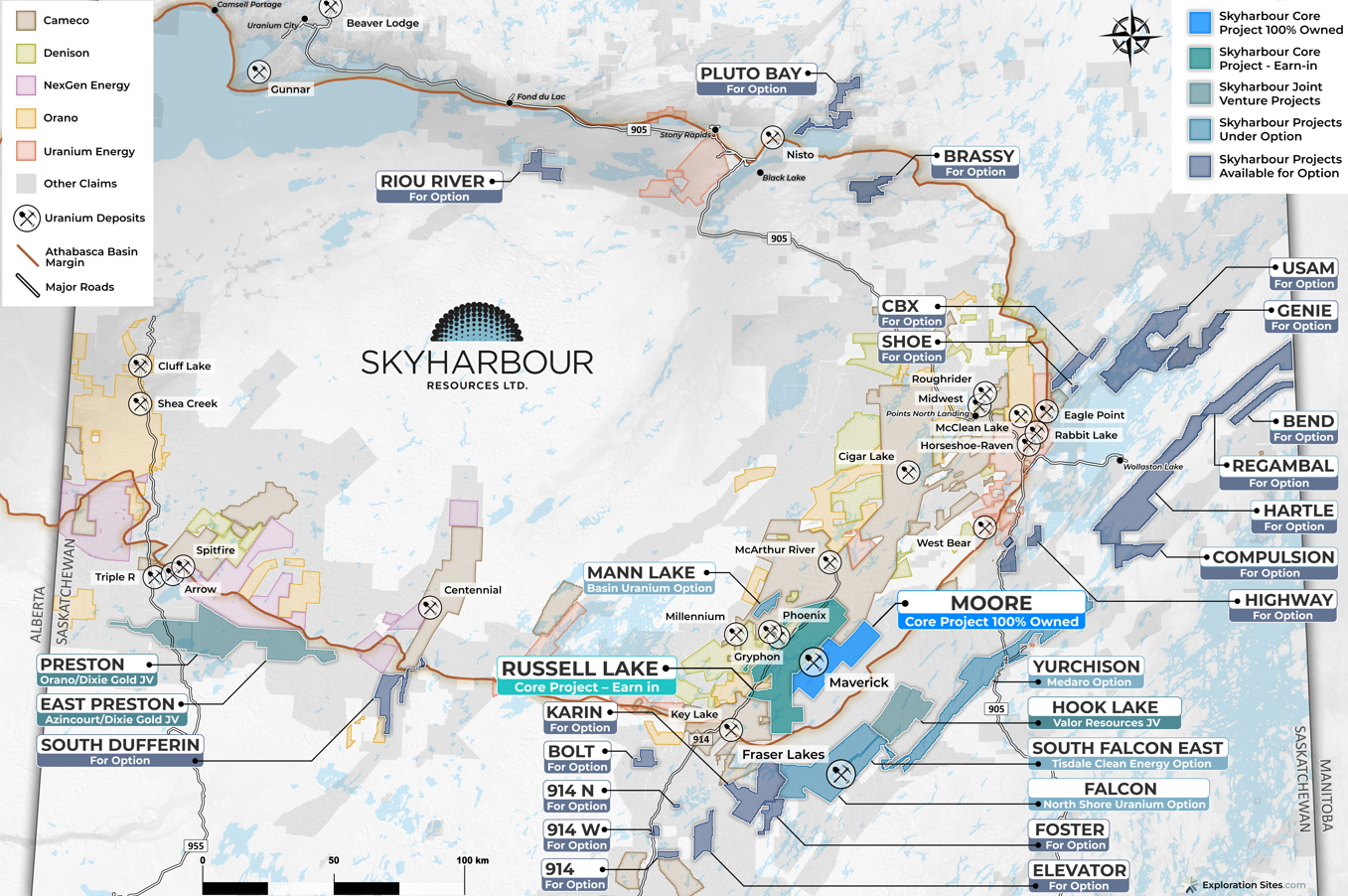 Project Summary:
The West Dufferin Project of Skyharbour Resources Ltd. consists of a single claim (MC00013278) totalling 2650 ha in the Athabasca Basin of northern Saskatchewan, Canada. The claim covers a relatively underexplored portion of the Athabasca Basin west of the Virgin River Shear Zone. The area is underlain by rocks of the Talston Domain and overlying sandstones and conglomerates of the Athabasca Basin, and lies just to the west of the Virgin River Fault Zone, which hosts Cameco's Centennial U Deposit (~19 km to the NE) and the Dufferin Lake U Zone (~12 km to the ESE). The project is roughly 4 km to the NE of a drill hole (FH-7) drilled by Inexco in 1979, which intersected up to 0.139% U3O8 in Athabasca Group sandstone.
Access to the West Dufferin property is via float- or ski-equipped aircraft and/or by helicopter from Buffalo Narrows (~ 190 km to the southwest), La Ronge (~ 300 km to the southeast), and/or Points North (~230) km to the northeast). No camp facilities exist on the property, nor are there any historical trails on the project.
Previous Work:
A limited amount of previous work has been done on the West Dufferin project, the vast majority of which was completed in the 1970's and 1980's. The earliest work recorded in the Saskatchewan Mineral Assessment database includes airborne EM, magnetic, spectrometer and geological reconnaissance surveys, prospecting, geological mapping, ground magnetic surveys, prospecting, and till sampling. More recently work was completed on the project from 2005-2008, including airborne MEGATEM, GEOTEM, and VTEM surveys and lake sediment sampling. No drilling has been completed to date on the West Dufferin project.
Weak basement conductors ("Target B") were identified on two lines in the 2006 VTEM survey completed for Titan Uranium Inc. within the confines of the West Dufferin project. These conductors are proximal to the axis of an extensive linear magnetic low and have an interpreted width of 600 m. Based on this survey, the predicted unconformity depth in the area is approximately 300 m. The report produced by Condor Consulting Inc. indicates that further ground follow-up would be required prior to drilling of this target.